'BE A YOUNG AMBASSADOR'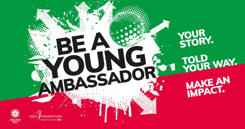 England Golf, in collaboration with the Golf Foundation, are looking for volunteers to join their young ambassador team.
Applicants to be between the ages of 14 and 22 at the time of applying, be able to commit to around five hours a month for a minimum of two years, have a passion for volunteering and the desire to share their passion with others.
As a young ambassador, they will be the voice of juniors in golf and help to shape the development of the game for future generations.
If you would like to take up this exciting opportunity, please follow the link below.
https://www.englandgolf.org/job-application/?Advert=MpIA94GUH+u0rTfo/urELQ==&ExtraData=&utm_source=social&utm_campaign=sharing_buttonsnull